Land cover data consists of maps of vegetation and developed lands. Mapping the vegetation provides information on food availability, nesting/spawning habitat, and shelter for fish and wildlife. Land cover data also provides insight into human effects within the floodplain.

The U.S. Geological Survey's Upper Midwest Environmental Sciences Center (UMESC) has created several high-resolution land cover/use data sets for the UMRS. The first systemic data set was from 1:15,000-scale color infrared aerial photos collected in 1989. These data have been interpreted to delineate three feature types, land cover/land use, percent of vegetation cover, and tree height. Several data sets were also completed from photos collected in years after 1989 in specific portions of the UMRS. A second systemic data set was created from 1:24,000-scale color infrared aerial photos collected in 2000. The third data set in this series, based on late-summer 2010 and 2011 color infrared digital aerial photography collected at 8"/pixel and 16"/pixel, is in progress.

Landsat Thematic Mapper data from 1989 was used to create another systematic land cover map for the UMRS.

LTRM also has created land cover data sets for historical data. Maps from the 1890s have been digitized into land cover data sets. Another dataset was created from archived digital data and aerial photography from 1975.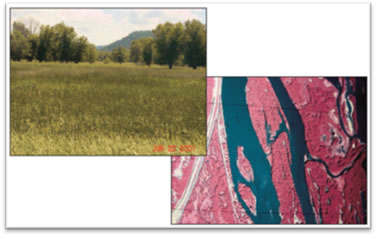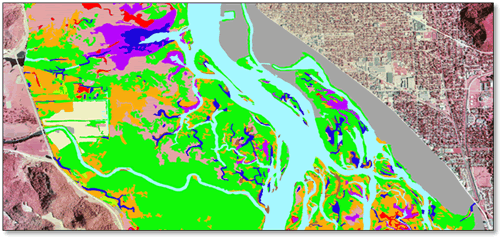 In between the production of these large data sets, many smaller products are developed to assist resource managers and scientists in their management strategies and goals. These products include baseline and follow-up vegetation maps and aerial photo mosaics for the Pools 5, 6 and 8 experimental water level drawdowns, vegetation maps and aerial photo mosaics of tundra swan habitat use in the upper pools, and web-based tools designed to offer faster access to information about or access to the Center's collection of archival and contemporary aerial photography.
Impact of UMESC Science
The primary goals of the Upper Mississippi River System's Long Term Resource Monitoring Program are to understand the system, determine resource trends and impacts, develop management alternatives, manage information, and develop useful products. LCU products and aerial photo mosaics, accomplished through the collection and interpretation of systemic aerial photography every ten years, are key components in this monitoring effort. Selected habitat restoration projects, which are typically designed and implemented at local-scales, are also monitored and evaluated through regular collection of aerial photography and detailed LCU data sets.


Component specialists: Jennifer Dieck and Larry Robinson

For more information, please visit these LTRM links:

Long Term Resource Monitoring (USGS)

Upper Mississippi River Restoration (UMRR) Program


Page Last Modified: April 2, 2018