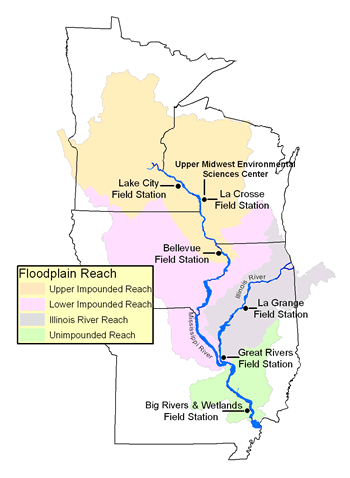 Field station web page on the INHS/UIUC server
The La Grange Pool Long Term Resource Monitoring (LTRM) Field Station is also known as the Illinois River Biological Station and is operated by the Illinois Natural History Survey (INHS). The INHS is one of five Surveys under the Prairie Research Institute and University of Illinois. The field station is located in a leased facility on the bank of the Illinois River in Havana, Illinois.
Major funding for the station is provided through the LTRM, an element of the Upper Mississippi River Restoration program (UMRR). The UMRR is a cooperative effort of the U.S. Army Corps of Engineers, the U.S. Geological Survey, and the natural resource agencies of the five states that border the Upper Mississippi River system UMRS (Illinois, Iowa, Minnesota, Missouri, and Wisconsin). The primary responsibility of the field station's LTRM staff (ten full-time biologists, staff, and technicians) is monitoring fishes and water quality along the 80-mile long La Grange pool of the Illinois River. Monitoring includes sampling main channel borders, side channels, and backwaters. Beginning in 2023, IRBS will be leading the reinstated macroinvertebrate component, which was recently funded from 2023-2027.
In the past, field station staff have been involved in a variety of other projects, including research on native mussels, invasive zebra mussels and their larvae, zooplankton, sport fish ecology, invasive species impacts and biological monitoring at Habitat Rehabilitation and Enhancement Projects and other restoration sites.
Currently, LTRM staff are also involved with studying the ecology of non-sport fishes (gars, buffalo spp.) and effects of a system wide lock closure on riverine ecology while continuing study of impacts of invasive carp, zooplankton, sport fish ecology, and habitat restoration.
Most research beyond the LTRM monitoring is funded through grants or contracts. Total staff at the field station varies from 20 to 35, depending on the season and the number and scope of additional research projects. Field station staff collaborate with INHS scientists from the INHS main office on the campus of the University of Illinois at Urbana-Champaign, the nearby Forbes Biological Station at Havana, five other INHS field stations, Illinois Department of Natural Resources as well as a number of other state, federal, or NGO partners. Other collaborative efforts include scientists from the LTRM's Upper Midwest Environmental Sciences Center at La Crosse, WI and the other five LTRM field stations. The Illinois River Biological Station also coordinates research activities on the Mississippi and Upper Illinois rivers through biologists located at satellite offices at Nauvoo State Park, Silver Springs State Park, and Starved Rock State Park in Illinois.
Currently IRBS's facility consists of 2460 square feet of office space with a 620 square foot conference room, a 1400 square feet of lab space, 2880 square feet of connected and heated shop/garage area, and a 1200 square foot covered boat shed on site that is not heated or connected to the main building. LTRM staff at the station have a total of six boats with associated motors, trailers, and support equipment: two electrofishing boats and two netting boats (a primary and a backup), water quality boat, and airboat. LTRM also owns two field vehicles that are housed at IRBS. Other equipment at the field station includes the following:
Field equipment
Three Garmin global positioning system units.
A variety of LTRM nets along with other sampling nets and all gear/equipment required to deploy and retrieve.
Three ETS Electrofishing control boxes.
Field laptops for electronic field data entry: two fisheries and two water quality
Three Hydrolab sondes, three YSI Pro2030 units, three Hach FH950 flow meters.
Laboratory equipment
Two Buehler Isomet, low-speed saws.
Multiple freezers for storage of biological specimens.
Dissecting microscopes for fish identification and other uses.
Full water quality lab with all equipment needed to conduct LTRM sampling or other water quality-based research.
Satorius analytical balance along with other scales.