Aquatic vegetation is important for many reasons (poster). Several monitoring methods have been or are being used at the Wisconsin Department of Natural Resources Mississippi River Monitoring Field Station at La Crosse to monitor aquatic vegetation.
A summary of Pool 8 transect data can be found at the following link: Pool 8 Transect Data Summary
Monitoring in the field (in the river or on the ground) includes:
A series of 45 fixed transects distributed among six contiguous backwaters and two isolated backwaters were sampled for submergent (underwater) vegetation from 1991-2000 following standardized LTRMP procedures for sampling submergent (underwater) vegetation manual #95-P002-3.


Annually, between 70 and 80 informal sites (covering about 80% of Pool 8) were surveyed qualitatively (1991-1997) for submergent vegetation.


Stratified random point-sampling (450-650 points throughout different aquatic areas in Pool 8) was begun in 1998 to sample submergent vegetation (see sampling design poster and procedures manual #95-P002-7 for details). This method replaced qualitative sampling beginning in 1998.
Wild celery, a submersed aquatic plant monitored by the field station, grows tubers that are valuable food for waterfowl such as canvasback ducks.

Crowsfoot is a submersed aquatic plant that blooms on the surface.
(Photo by Andy Bartels)
Monitoring with remote-sensing technologies (photos or images taken from airplanes or satelites) includes:
Color infrared aerial photos of Pool 8 are also taken annually at peak biomass to assess coverage of terrestrial, floating leaf, and emergent vegetation.
True Color aerial photos of Pool 8 are taken at wider time intervals. Aerial photo mosaics are produced.
The Wisconsin Field Station's vegetation specialist interpreted the color infrared photos for floating leafed, emergent, and terrestrial vegetation. Other employees funded by LTRM partners register these data on base maps and digitize them to produce Land Cover/Land Use maps. (See procedures manual # 95-P008-2)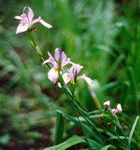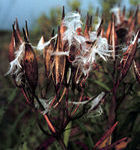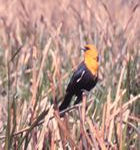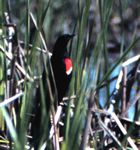 Many attractive birds and wild flowers use backwater and moist-soil habitat or vegetation found in the Upper Mississippi River floodplain. Pictured above are wild iris, swamp milkweed, yellow-headed blackbird, and the familiar red-winged blackbird. The blackbirds are both in bulrushes, an important native emergent plant we monitor by interpreting aerial photography.
The WDNR La Crosse's vegetation crew uses the airboat to get into shallow and weedy or otherwise inaccessible areas during stratified random sampling for submersed vegetation.

American Lotus is a common floating-leafed plant which provides food for wildlife. We monitor it with both aquatic vegetation (on the water) methods and remote sensing (aerial photography) methods.
(Photo by Heidi Langrehr)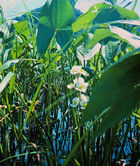 Arrowhead is a native plant that provides an important food source for migrating waterfowl. We monitor emergent plants like arrowhead in the field and by remote sensing (aerial photography).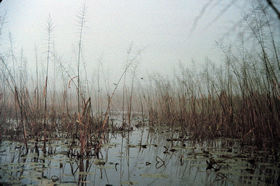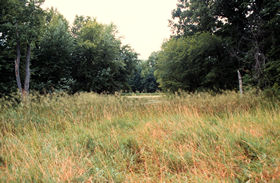 Wild rice grows in several quiet backwaters in Pool 8. It provides shelter and food for waterbirds and is an important source of food for waterfowl during fall migration. We monitor wild rice in the field and by interpreting aerial photography.
(Photos by Terry Dukerschein)
A research project on floodplain forest regeneration examined seedling growth and regeneration in floodplain forests with the eventual goal being to model floodplain forest succession under varying hydrological conditions. Two sites in Pool 8 contributed data to this study, which was conducted at all six LTRM study reaches from 1997—2000.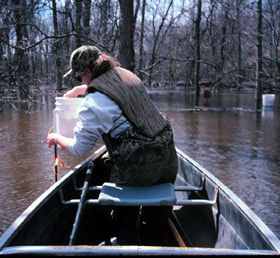 During spring floods, monitoring tree seedfall on floodplain forest plots usually located on dry land can be logistically challenging.

Seedfall, growth, and mortality/survival data collected from this multi-year study will help scientists predict floodplain forest composition and succession under various flooding scenarios.

(Photos by Lisa Hodge Richardson and Heidi Langrehr)