La Crosse field station
Outreach
Tours and workshops for legislators, scientists from all over the world, government officials, students, and others
Open Houses in cooperation with US Fish and Wildlife Service and US Geological Survey
Talks and workshops at clubs, elementary schools, middle schools, and high schools, and universities
Articles for general audiences and interviews with mass media (radio, television, newspaper, magazines)
Examples of Tours and Workshops on the River and in the Lab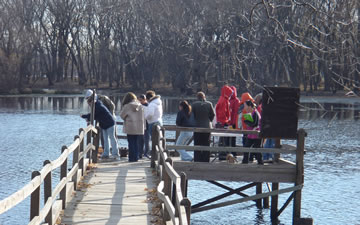 Heidi Langrehr demonstrates aquatic vegetation sampling, and Terry Dukerschien, Lorraine Koch (La Crosse Logan High School Biology teacher) guide Russian and American students in a computerized Geographical Information Systems mapping workshop.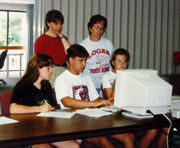 These workshops were co-sponsored by Sister Cities International and the La Crosse-Dubna Friendship Association. La Crosse Field Station staff members have also worked with Mississippi River DNR staff in teacher workshops and DNR Foundation Workshops.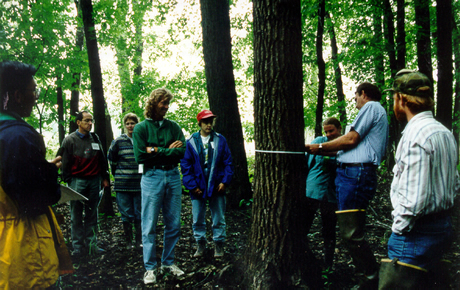 For an international large-river conference, La Crosse Field Station staff planned and organized a large river sampling demonstration. Scientists from around the world learned how we collect data in floodplain forests and other habitats of the Mississippi River.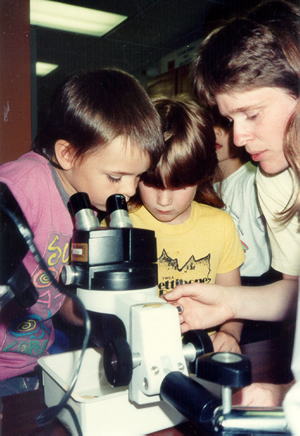 Heidi Langrehr shows elementary school students some aquatic vegetation in the lab.

Talks at Clubs, Schools, Universities
La Crosse Field Station staff have helped with several Career Days and Science Fairs at local Wisconsin and Minnesota schools as well as Earth Day Events and School on the River Programs. We have given talks or demonstrations to clubs and classrooms on topics such as aquatic vegetation, water quality, pollutants, fish, and floodplain forestry.

Wearing her turkey-hunting gear to make the point, Terry Dukerschein explains to Trempealeau, Wisconsin, elementary school students how some underwater animals hide and use ambush techniques to get their food.
Newspaper and Magazine Articles
La Crosse Field Station staff have written or been interviewed for articles in the La Crosse Tribune, The St. Paul Pioneer Press, The Milwaukee Journal-Sentinal, and numerous other local and regional newspapers. Archives of pertinient newspapers articles are currently under construction.


La Crosse Field Station Team Leader
Telephone: (608) 781-6360
Fax: (608) 783-6066


Page Last Modified: April 3, 2018