The Fish and Wildlife Service (USFWS) has been entrusted to manage our nation's critical wetland resources. Due to conversion in industrial, residential, and agricultural uses, these wetlands have been disappearing at an alarming rate over the last one-hundred years. In order to better care for these resources, all of the refuges are developing long-term Comprehensive Conservation Plans (CCP). 
An important component of these plans is a detailed baseline of vegetation growing on these refuges. UMESC works closely with both refuge staff and Region Office biologists to develop vegetation classification systems and GIS products that assist in the design and implementation of long-term refuge plans. For more information, please see the Comprehensive Conservation Plans web page.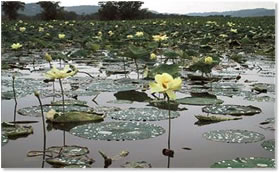 Aquatic vegetation on the Upper Mississippi River National Wildlife and Fish Refuge.
Impact of UMESC Science
Implementing new technologies, when cost effective, allows UMESC to continue to increase both the production efficiency and spatial accuracy of its GIS data sets.
Points of Contact: Jennifer Dieck and Larry Robinson
Mention of trade names or commercial products does not constitute endorsement or recommendation for use by the U.S. Department of Interior, U.S. Geological Survey.