Management Unit Prioritization Tools
Jason Rohweder1, Sara Vacek2 Wayne E. Thogmartin1 and Shawn M. Crimmins1
1 U.S. Geological Survey, Upper Midwest Environmental Sciences Center
2 U.S. Fish and Wildlife Service, Morris Wetland Management District
Introduction
Where are the most important places to direct conservation effort? Such a simple question is not answered simply. There are a myriad of priorities, constraints, and capacities, both scientific and socio-economic, which in combination guide the allocation of management effort. An honest accounting of these priorities, constraints, and capacities is essential for efficient, effective action. The Management Unit Prioritization Tools provide a means to do this.
Background
In 2011, researchers from the U.S. Geological Survey, Upper Midwest Environmental Sciences Center and the U.S. Fish and Wildlife Service, Morris Wetland Management District developed models and tools to allow managers to prioritize and target management amongst their management units based upon a user-defined set of criteria (Rohweder and others 2015). These tools provided an effective way for district personnel to be able to rank numerous spatially dispersed management units. It became clear that the methods employed would be useful to a more general audience and revised tools would be beneficial. The revised toolset, entitled "Management Unit Prioritization Tools", consists of two separate tools; the Conservation Objective Prioritization Tool and the Overall Prioritization Tool. These tools were developed within ArcMap using Python scripts.
Conservation Objective Prioritization Tool
The Conservation Objective Prioritization Tool allows the user to prioritize the management units under their control based upon a user-specified set of input criteria. These identified input criteria are often identified as part of structured decision making workshops held between the managing agency and relevant stakeholders. These input criteria can be in the form of values within attribute fields contained in the management unit boundary spatial data set or as raster data sets underlying the management units that are subsequently summarized (averaged) for each unit by the tool. Each input criteria is also given a relative weight whereupon greater emphasis can be given to those criteria most important to managers.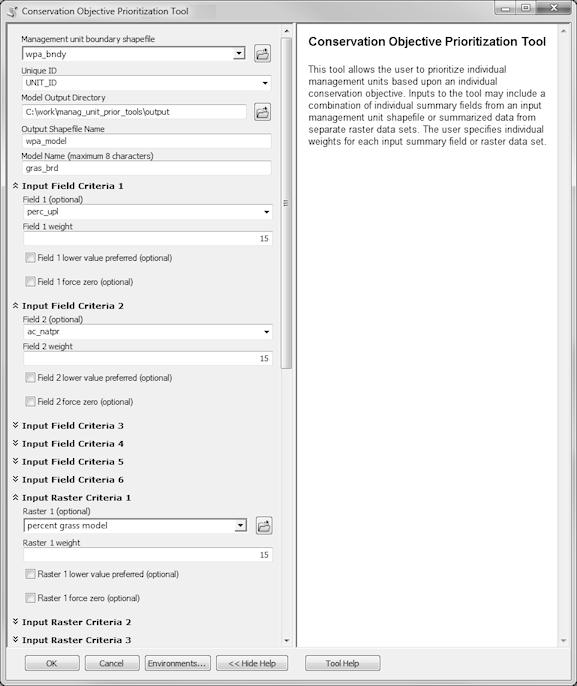 Overall Prioritization Tool
The individual Conservation Prioritization Objective Tool outputs are useful to help the managing agency understand the value of each management unit for each objective, but realistically the agency often has the complex task of trying to integrate several objectives when making management decisions. To account for this, we created the Overall Prioritization Tool to integrate the results of all the individual Conservation Objective Prioritization Tool outputs. The Overall Prioritization Tool allows the user to overlay several Conservation Objective Prioritization Tool outputs and create a new modelled overall prioritization output. This overlay is again weighted by the user to allow greater influence by those conservation objectives that are of a higher priority to the management area being studied.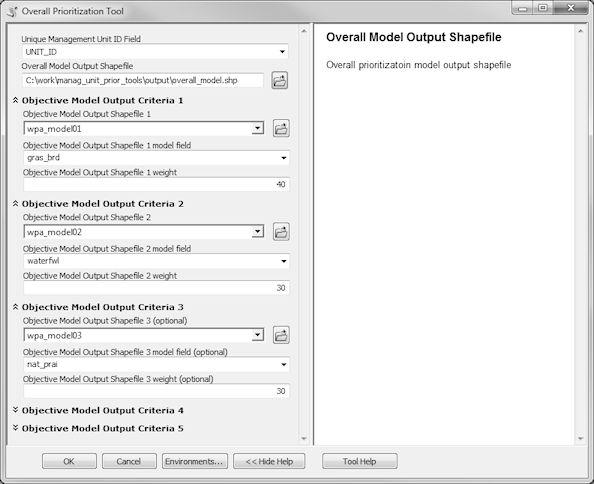 Download the Management Unit Prioritization Tools
Science Impact
The development of these decision support tools give resource managers the ability to make thoughtful and strategic choices about where to spend their limited management resources. This tool makes the processes used to prioritize management units more transparent, improving the defensibility of management decisions.

This project was completed in 2015.

Please direct problems downloading files to Jason Rohweder.