Upper Midwest Environmental Sciences Center
Mississippi River Flood: April 2001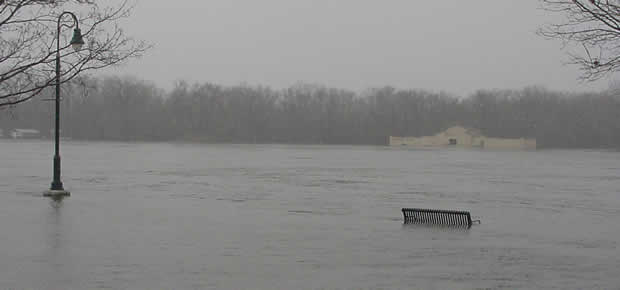 The Mississippi River overflowed onto the waterfront promenade in Riverside Park
in La Crosse, Wisconsin. Photo taken: April 16, 2001.

In April, 2001 the Upper Mississippi River experienced severe flooding of historic significance - the river rose to its highest level since 1965. The Upper Midwest Environmental Sciences Center documented the flooding in the region of La Crosse, Wisconsin with a collection of surface and aerial obliques (photographs) and video.
---

Aerial photos of
Mississippi River
Pools 6 through 9,
April 18, 2001.
Additional photos of
Pools 8, 9, 12-15,
April 24, 2001.


---

Ground-level photos
throughout the
La Crosse region.
April 16 - 25, 2001

Also, photos of USGS staff volunteering.

---

Footage throughout
the La Crosse region.
April 16, 2001

---

All photos and video taken by UMESC staff members: Larry Robinson, Jennifer Dieck, J. C. Nelson, Mark Wenger, Mike Caucutt, and Robert Kratt