Upper Midwest Environmental Sciences Center
Light Detection And Ranging (LiDAR) generates extremely accurate (vertical and horizontal) location information and has long been a desired product for the UMRS. The best publically available elevation data for the entire UMRS is 30 meter cells, though 10 meter/cell data can now be downloaded for many areas. In 2007, the U.S Army Corps of Engineers – Rock Island District entered an agreement with the Iowa Department of Natural Resources to collect FEMA-grade, bluff-to-bluff LiDAR for Navigation Pools 8-24 of the UMRS. However, due to weather and water level related issues, the vendor was unable to collect LiDAR for Navigation Pools 15-19 and this effort remains in-progress. In 2009, with American Recovery and Reinvestment (ARRA) funds, Navigation Pools 2 through upper Pool 4 and the lower St Croix were collected. Additionally, data collected by the State of Minnesota for SE MN and older data collected by the Corps, were used to complete the coverage of Navigation Pool 7. The 2009 contract also provides for LiDAR collection of Navigation Pools 25 and 26, the Open River Reach, and the Illinois River.
LiDAR data are remotely sensed, high-resolution elevation data collected by airplane. The Upper Midwest Environmental Sciences Center is processing these data to create Digital Elevation Models (DEMs), 0.5 meter contour lines, and pool-wide hillshade images. The collection and processing of these data are funded by the U.S. Army Corps of Engineers Environmental Management Program (EMP) and the Long Term Resource Monitoring Program (LTRMP). For more information on LiDAR and how it is processed, please see the LiDAR Elevation Data page.
St. Croix River

Mississippi River
= Link to Tier 2 last return LiDAR map = Link to Tier 2 first return LiDAR map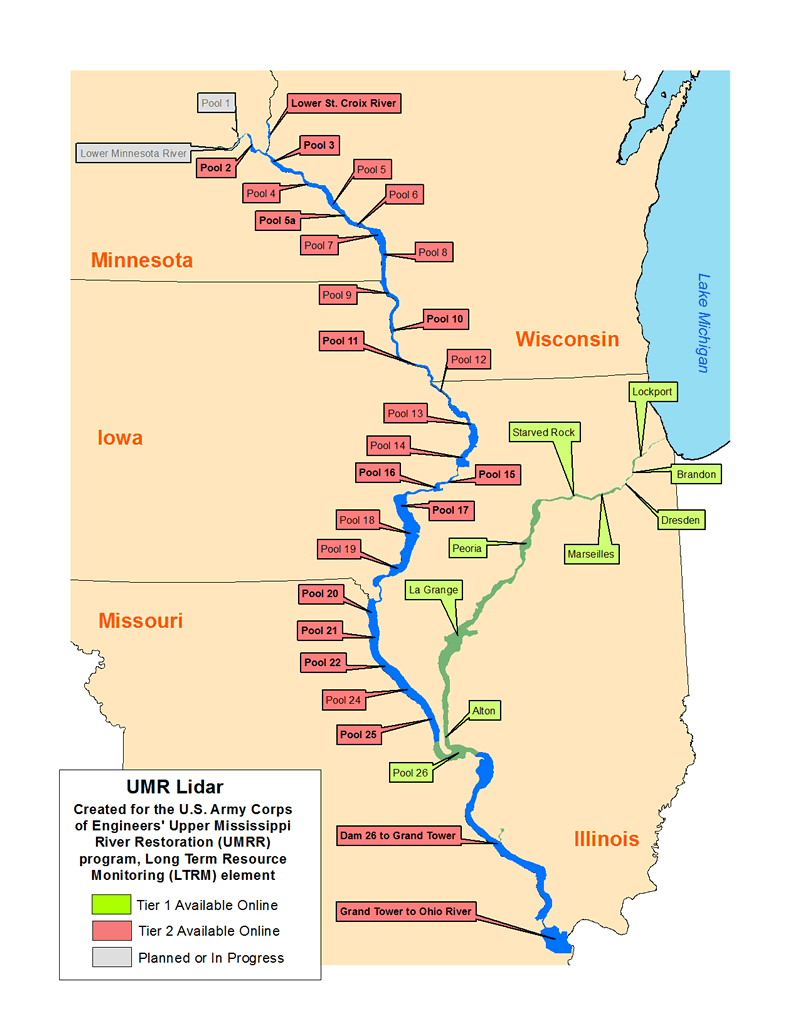 Disclaimer: Tier 1 LiDAR data available on this site are currently undergoing quality assurance testing by the U.S. Geological Survey (USGS). While this testing is underway, these data are being provided as-is, with no guarantee of accuracy. Tier 2 LiDAR data have gone through quality assurance testing and have been approved for release by the USGS. Although Tier 2 data have been subjected to rigorous review and are substantially complete, the USGS reserves the right to revise these data pursuant to further analysis and review. Furthermore, Tier 1 and Tier 2 data are released on condition that neither the USGS nor the United States Government may be held liable for any damages resulting from their authorized or unauthorized use.
---