Upper Midwest Environmental Sciences Center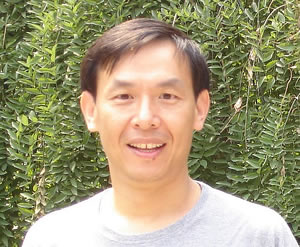 Yao Yin
Position title: Research Ecologist
Email: yyin@usgs.gov
Phone: 608.781.6350
Fax: 608.783.6066
Education:
1993, Ph.D., Botany, University of Tennessee
1984, B.S., Botany, Lanzhou University
Primary Responsibilities/Activities:
As a member of the Long Term Resource Monitoring Program (LTRMP) team, I provide technical expertise on the experimental design and implementation of the aquatic vegetation monitoring in the Upper Mississippi River System (UMRS). My activities include statistical analyses of the monitoring data and computer modeling to reveal the health status and the driving functions of the UMRS.
Research Interests:
Natural history of large rivers
Vegetation responses to hydrological fluctuations
Restoration of river ecological functions
Active Projects:
Status and trend of the Upper Mississippi River Ecosystem (LTRMP team)
Flood-induced forest succession (LTRMP)
Select Publications:
Kreiling, R. M., Y. Yin and T. Gerber 2006. Abiotic influences on the biomass of Vallisneria Americana Michx. in the Upper Mississippi River. River Research and Applications 22: 1-7.
Yin, Y. 1998. Flooding and forest succession in a modified stretch along the Upper Mississippi River. Regulated Rivers: Research & Management 14: 217 – 225.
Sparks, E. R., J. C. Nelson, and Y. Yin. 1998. Naturalization of flood regime in regulated rivers. BioScience 48: 706 – 720.
Yin. Y., J. C. Nelson, and K. S. Lubinski. 1997. Bottomland hardwood forests along the Upper Mississippi River. Natural Areas Journal. 17: 164 – 173.
Links:
Long Term Resource Monitoring Program
Aquatic vegetation dynamics in selected backwater areas of the Upper Mississippi and Illinois Rivers
Patterns and abundance of aquatic vegetation in the Upper Mississippi and Illinois Rivers